About Pamesa Ceramica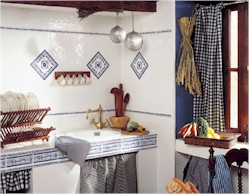 PAMESA CERAMICA, located in the outskits of Almazora, is a specialist in the production, distribution and sales of floor and wall tiles manufactured in red and white body (biscuit) and porcelain gres. This last product marketing under the name of COMPACTTO.

Pamesa employes a staff of over 800 and covers a site of 205,000 sq.m. some 162,000 sq. m. which is taken up with factor, warehousing and office space.

Its present production capacity is 15,000,000 sq.m./year in ceramic floor and wall tiles, and 8,000,000 sq.m./year in porcelain gres.

The company's annual turnover now stands at over 25,000 million pesetas, thanks to the firm base it has built up all over the world.

Pamesa's commitment to the care of the environment is clearly shown in its programme of selective recycling of waste products and the total recovery of all the water used the production process. Its ultimate goal is to produce no waste whatsoever.

Today Pamesa is made up of a group of companies which include Abrasivos Porcelanicos and Ondagen.
---
---